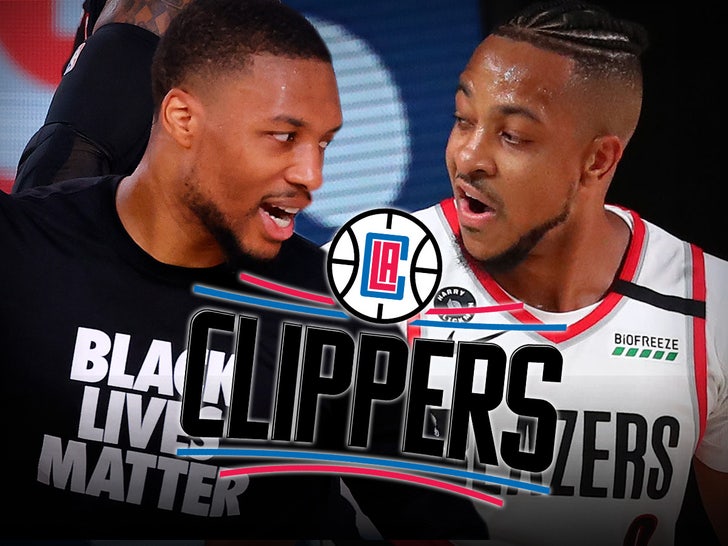 Breaking News
Trailblazers stars Damian Lillard and CJ McCollum took the ultimate low road and clowned THE HELL out of the Clippers for their early playoff exit … and it's saaavaagggeeee!!!
In case you weren't aware … Lillard and McCollum have big beef with the Clips — and it all stems from a non-playoff bubble game back in early August.
During the Portland-L.A. matchup … Lillard wasn't his usual clutch self — and Clips star Patrick Beverley let him hear it — chirping and laughing at the guard as L.A. won the game.
Afterward, Lillard, Beverly and Paul George all got into a spat on social media … with Beverly and George believing at the time Lillard wasn't going to make the playoffs.
In one of Beverly's comments toward Lillard … the Clippers guard said "Cancun on 3" — insinuating Damian would be off to Mexico instead of chasing a world title.
Turns out, Lillard and McCollum DID get into the playoffs … and despite losing in the 1st round to the Lakers — they never forgot the smack talk, and returned the favor BIG TIME after L.A. was shockingly bounced by the Denver Nuggets in the conference semi-finals Tuesday.
"I guess I should extend this Cancun invite since I haven't made my arrangements yet," Lillard shot at Beverly.
"I'll bring the wine," McCollum added. "Weather nice as ever too."
McCollum continued, "My last tweet before I finish this glass. They did vote they ain't wanna play no more. . . But I didn't think they was gonna go out like that."
My last tweet before I finish this glass. They did vote they ain't wanna play no more. . . But I didn't think they was gonna go out like that 😂

— CJ McCollum (@CJMcCollum) September 16, 2020
@CJMcCollum